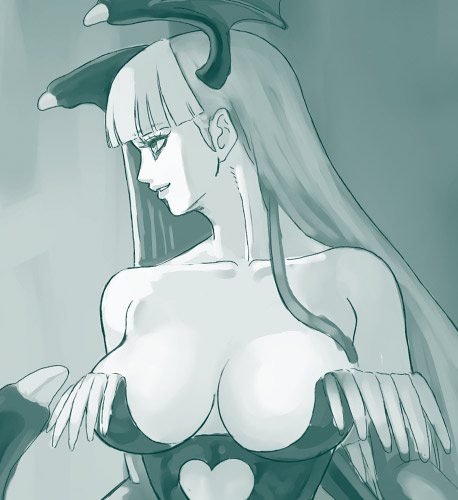 MVCIでは日本語ボイスが無いので
モリガンの英語ボイスを聞き取ろうとしたら
初っぱなからつまづいて苦笑
https://www.youtube.com/watch?time_continue=5&v=AYQ132umKH0
Please help me!(click the link below)
https://www.youtube.com/watch?time_continue=5&v=AYQ132umKH0
I'd appreciate it very much if you could help me understand
what she's saying in this Morrigan voice clip.
赤字は修正箇所
1. You have
great
taste!
2. I'll weave you the finest dream.
3. Nice to see you.
4. Come! I'll show you such pleasures.
5. Your(you have?) eyes burn with passion.
6. Forget salvation, what about pleasure.
7. I hope we can have some fun.
8. You're in for the night of your life.
9. Don't let me scare you.
10. I want you, body and soul.
11. I always wanted to taste your soul.
12. I'm melting with excitement.
13. Are you sure you wouldn't rather do something else?
14. Naughty, perhaps I should punish you.
15. Oh my! What a tasty looking treat.
16. Time to find out how you taste.
17. You never learn, so I'll give your punishment.
18. This world is made for pleasure, it's natural to enjoy it.
19. I'll show you how we play in the demon world.
20. Let's forget about vengeance, and burn ourselves with passion.
21. We're just getting to the good part.
22. Don't get any funny ideas, partner.
23 We've known each other for centuries, we'll perform perfectly together.
24. You have no soul, how tedious.
25. Machines just aren't my thing.
26. My heart is thumping, what a thrill.
33. Take this!
34. How's this!
36. Beautiful, aren't I?
37. The climax!
39. I beg your pardon.
40. Don't be scared.
42. How eager.
45. Done so soon?
46. Come over here.
47. Shell Kick!
48. Soul Fist!
49. Shadow Blade!
51. Fall
52. How does that feel?
53. I'll drain you.
54. Can you dodge this?
55. You can't escape.
56. You're the bad one.
57. You've been naughty.
58. Can you put up with this.
59. Do you like what you see?
66. Does that feel good?
67. Oh so fascinating!
68. How intoxicating!
69. The thrill, I can't get enough!
70. No more playing nice!
71. Power Stone!
72 . Reality Stone!
73. Time Stone!
74. Soul Stone!
75. Space Stone!
76. Mind Stone!
86. I was bored anyway.
89. You're so good.
90.
Snap out of it!
91. Don't play yourself out.
92. Let's play again sometime.
93. Don't be afraid, I'll be ever so gentle.
94. I sense a great power gathering, my night just got better.
95. Here look into my eyes, and bid your soul good bye.
96. Give me a gift, your mortal soul.